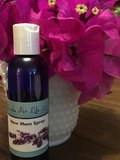 A blend of 100% pure organic and wildcrafted Lavender, Frankincense & Red Mandarin essential oils and Plant Based Enzymes. 
A mom's escape in a bottle with oils to relieve stress, fatigue & new mom fears. 
These statements have not been evaluated by the Food and Drug Administration. This product is not intended to diagnose, treat, cure, or prevent any disease.