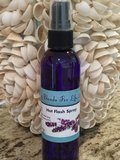 A blend of 100% pure organic and wildcrafted Peppermint, Geranium, Clary Sage, Roman Chamomile, Lemon & Pine essential oils & Reverse Osmosis Water.
Hormone balancing to alleviate hot flashes & menopausal symptoms. Spray as needed for hot flashes & night sweats. 
These statements have not been evaluated by the Food and Drug Administration. This product is not intended to diagnose, treat, cure, or prevent any disease.